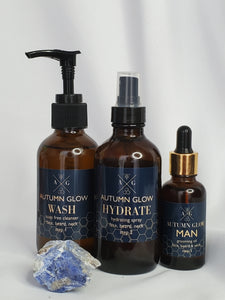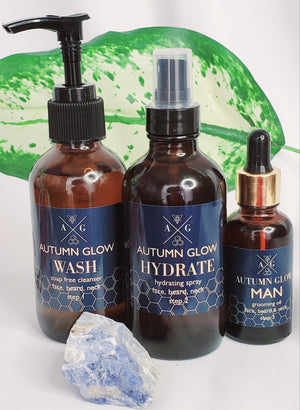 Customer Reviews
11/17/2021
Jasmeet

United States
I recommend this product
Great product
I have been using Autumn Glow's mens products for a few weeks and they have been a welcome addition to my grooming routine. What I like the most is that these are all natural products and I can feel the difference it makes on my skin as I use the products.
11/18/2021
Autumn Glow Botanical
Thank you so much Jasmeet!!
12/03/2020
Samuel R.

United States
I recommend this product
Men's Collection Review (Autumn Glow Botanicals)
Let me tell you about Autumn Glow Botanicals for Men. I just received my products and used them last night before going to bed. I have the Re-New Facial Scrub, Facial Cleanse, Hydrate Spray and Grooming Oil. The first thing I noticed about your product was the Presentation. Professional, Artistic and Beautifully Packaged. Next thing I notice was the all natural ingredients and beautiful aromatics each product had. They all smell amazing. Then the most exciting part was trying all of the products out on my face. I started with the Cleanse this made my skin feel great. I then moved to the Re-New Facial Scrub I could feel the charcoal based product working right away. My skin felt very smooth after I was done. Then it was time to Hydrate. This product smelt and felt amazing. Re-hydrating my skin after exfoliating it with the Re-New Scrub. Then lastly I finished it off with rubbing the RoseHip Seed Grooming Oil. Just a few drops in my hands and then I applied it to my face and neck. I call it the Icing on the Cake. It also smelt amazing and gave my new skin a Glow. My Wife was like Wow. Men this product line is a Game Changer, easy to use and it makes your skin feel smoother than a babies bottom. Kim you nailed it. You have created something with a lot of love and care. Keep inspiring people to care for themselves and they will begin to love themselves. This is one of the Pillars of your creation. I felt good after I cared for myself last night and I pray everyone gets that same experience once they use Autumn Glow Botanicals. God has given you the ability to create something special and now it's time for you to unleash it on the World. So continues to Dream Bigger for your Baby is growing. Continued Expansion and Blessings over your business. I'm another satisfied customer and will spread the word about your Wonderful All Natural Products. God Bless and Much Success.
12/03/2020
Autumn Glow Botanical
wow! beautiful words! Thank you so much
Men's Trio
Great customer service,quick delivery and the packing presentation was wonderful. I just purchased this as a gift for my husband and I know he is going to love it. I look forward to purchasing more of this and many more of Autumn Glow products. Thank you!
Healthy Glowing Skin
Healthy glowing skin!